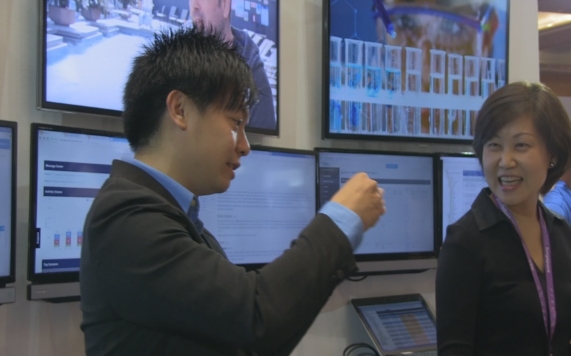 Hire a world-class trade show magician who can entertain exhibit attendees while delivering your message in a powerful, professional manner.
You're spending thousands of dollars to create your trade show exhibit so don't let your budget dollars go to waste. Hundreds or even thousands of people may be passing by your exhibit, but if people aren't stopping at your booth, why have a booth at all?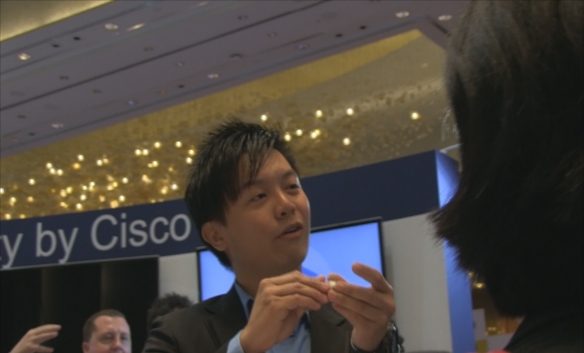 Why Hire a Trade Show Magician?
There are many ways to bring people to your booth, but only a trade show magician can attract crowds, deliver your message, and prequalify leads all while generating buzz and excitement.
As a trade show magician, I will perform amazing trade show magic that will stop traffic at your booth. Once I've gathered a crowd, I'll weave your marketing message into my act. When the magic is over, you'll see people come into your booth who genuinely want to learn more about doing business with your company. Please watch the sample video below and read on for more reasons for you to hire a trade show magician.
As a Trade Show Magician, I can…
Stop traffic at your booth, Generate crowds in and around your booth

Trade show magicians are common in America but rare in Asia, which means that your booth will be unique and different. My magic will stop people at your booth and get them interested in your company.

Educate, Entertain & Inform

My custom scripting will incorporate your products or services into my magic, your company's message will be incorporated and heard and the benefits of your products and services will be promoted. Booth visitors will learn why they should do business with you your booth will leave a lasting positive impression on the minds of the attendees.

Pre-Qualify Leads

Not everyone who stops by your booth is a potential customer or client. I will spot which are the ones that will generate a lead for you and my magic will separate the quality leads from the rest.

Increase Follow-up Opportunities

After my performance, I'll send the prospects to your booth staff. They'll already know about your products and services, so you'll know that they are truly interested.

Ensure you stand out from all the boring booths

Magic appeals to all ages and backgrounds. With a trade show magician, you don't need a large booth to have a large presence on the trade show floor. I will be able to create a huge presence on the trade show floor for you.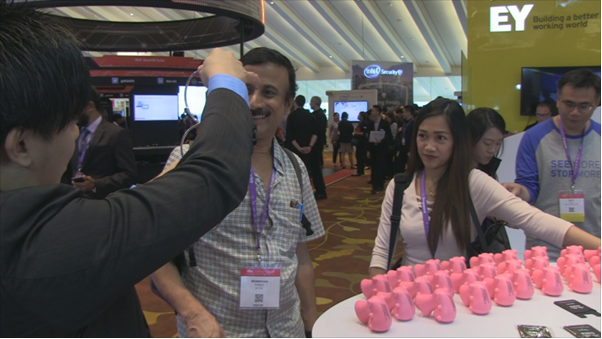 Why should YOU hire ME?
I have a background in entrepreneurship with experience in marketing and sales – My entire career has been based on marketing and sales, and I will incorporate your sales message into my presentation while keeping people interested and engaged.
Adaptability, Fits Almost Any Booth
Tradeshow magic works equally well in an in-line 10'x10′ booth as it does in a 50'x50′ island exhibit. If you are looking for a larger seated presentation, then "Theatre-Style" with a big illusion is the perfect way to get your message across without subjecting your prospects to the "death by PowerPoint" seen in other exhibits. However, if booth real-estate is a premium, "Aisle-View" tradeshow magic takes-up only 3'x3′ of space, and it easily draws record sized crowds. Whether you have a 10'X 10' in line booth or a 50' X 50' island booth, I can adapt my show to make the biggest impact on your prospects and customers.
Qualified leads
As I go through my presentation, I will ask people questions identifying who they are, so your sales people can immediately follow up with the attendees who are the most qualified to do business with your company.
I speak your customer's language
Not only do I learn about your products and services, I consult with your team to learn all the jargon and keywords of your specific industry. When I am done with my presentation, your prospective customers will believe I know as much about your company's messaging as your own sales people.
Dynamic and interactive
I will engage people and interact with them so the attendees become a part of the show. Instead of just watching a presentation they will experience it.
Magic as a hook
The magic I perform is designed to grab people's attention and draw a crowd. Once I have their attention, I weave your sales message into the presentation. When they remember the magic, they'll remember your message!
Cost-Effective
A trade show magician services are well within most budgets. There is not too much extra stuff needed, and no costly booth redesigns. All that is needed is the cost to customise your message and logo into some props that I will be using and giving away to the attendees so that they can leave with something that represents your company.
A collaboration where your company will be the star
In order for all the above benefits to work out, I will be meeting with your team before the trade show and communicating through emails to thoroughly understand what you want to achieve and the core message to bring across to the attendees, as well as understanding the mission and values of your company to be the best representation for you during the exhibition. I will then suggest some tricks and acts to bring across the message and customise the scripting to incorporate your marketing message into my magic.